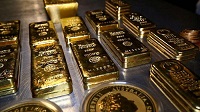 Gold prices held down on Wednesday after they touched near a nine-month peak in the previous session on expectations of slower interest rate hikes from the US Federal Reserve.
According to Khaleej Times, spot gold was down at $1,927.94 per ounce, as of 9.30 am UAE time.
The precious metal prices fell at the opening of the markets in the UAE on Wednesday.
The Dubai Jewellery Group data showed 24K trading at Dh233.75 per gram on Wednesday, down from Dh234.0 at the close of the markets on Tuesday.
Among the other variants of the yellow metal, 22K opened at Dh216.5 per gram, 21K at Dh209.5 and 18K at Dh179.5 per gram.
Investors are mostly expecting the Fed to raise rates by 25 basis points at its policy meeting next week. The US central bank slowed its pace to 50 bps in December, following four straight 75-bp hikes.
Edward Moya, senior market analyst at Oanda, said gold prices remain elevated but are wavering after yields decline on growth fears and after better-than-expected PMI data.
"Gold appears poised to consolidate here until we get beyond Q4 GDP and the FOMC (Federal Open Market Committee) decision. Earnings have been coming in soft and a weakening economy should keep safe-haven flows stable for gold," he said. (NewsWire)