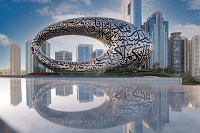 Dubai government entities recorded an average customer happiness rate of 86 per cent last year.
According to Khaleej Times, this came as Sheikh Hamdan bin Mohammed bin Rashid Al Maktoum, Crown Prince of Dubai, approved the results of the government Customer and Employee Happiness Indices for 2022.
He congratulated the top three entities in the Customers Happiness Index: Mohammed bin Rashid Housing Establishment, which scored 97.4 per cent; Dubai Chambers, 97 per cent; and the Dubai Corporation for Ambulance Services, 94.4 per cent.
Sheikh Hamdan expressed delight with the overall performance of the government entities.
He also congratulated the entities ranked highest in the Employee Happiness Index. These include the Mohammed bin Rashid Housing Establishment, which scored 95 per cent; Dubai Police, 94.6 per cent and the General Directorate of Residency and Foreigners Affairs, 94.2 per cent.
The Crown Prince directed the Dubai Government Excellence Programme to set a time-bound improvement target for entities that scored below the average rate in both indices. He urged the entities concerned to proactively offer services that can raise customer and employee happiness.
Sheikh Hamdan directed government entities to analyse customer experiences to enhance results and develop their services to keep pace with customer expectations.
Announced publicly on January 18 every year, the results of the 2022 indices were presented by the Dubai Government Excellence Programme, which operates under the General Secretariat of the Executive Council of Dubai. The initiative is part of the programme's efforts to continuously develop the quality of services provided by Dubai government entities.
Sheikh Hamdan said: "We constantly strive to exceed the expectations of citizens, residents and visitors. Dubai's ability to ensure high levels of excellence is driven by a diligent government team that works around the clock to serve people and ensure their happiness."
How the entities were rated
The main index for gauging employee happiness included four sub-indicators: Positivity at work, job harmony, job satisfaction and job loyalty.
The Customer Happiness Index had several amendments that reflected global best practices in service quality and customer experience management.
Since its launch in 2004, the Government of Dubai Customer Happiness Index has seen exceptional growth.
The excellence programme continues to integrate the results of the instant happiness surveys for services provided through websites and smart applications. (NewsWire)