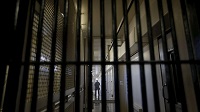 The Dubai Misdemeanour Court sentenced an Asian maid to one month in prison after she assaulted an infant. 
According to Khaleej Times, the accused will be deported after she serves her sentence.
The one-year-old victim is a Gulf national and was hit on the head several times. The child's father found out about the assault through surveillance cameras set up.
The Dubai Public Prosecution referred the accused to the court on charges of assaulting the infant and demanded that she be charged under Federal Law No. 3 of 2016 regarding the rights of the child "Wadeema" and the Federal Crimes and Penalties Law.
According to official court documents, the maid assaulted the one-year-old girl by hitting her on the head twice.
The infant's father confirmed that he saw that maid hit his daughter on the head several times.
The accused, however, denied the charges and said that she was trying to make her sleep by caressing her head.
She added that she did not want to cause her any harm at all, and confirmed that it was her that featured in the video with the child.
The court said that it was satisfied with the evidence of the incident and the father's testimony. It also said that the accused had deliberately hit the child and harmed her body, so it convicted her in the crime. (NewsWire)