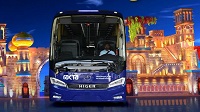 Ras Al Khaimah residents can now take a public bus that will go straight to Dubai's popular festival park Global Village, authorities announced on Saturday. 
According to Khaleej Times, a one-way ticket costs Dh30.
Ras Al Khaimah Transport Authority (RAKTA) — in cooperation with the Roads and Transport Authority (RTA) in Dubai and the Global Village — launched the bus route in response to increasing demand from residents who wish to visit the family-friendly destination, it said in a statement.
The bus service is available only every Friday, Saturday and Sunday with two roundtrips. Trips from Ras Al Khaimah to Global Village are scheduled at 3pm and 5pm, while those from the park back to the emirate are at 10pm and 12am.
The trial launch of the initiative started on December 16, 2022.
Commuters can book online and pay for the trip on the smart app RAKBus. A one-way ticket costs Dh30.
Mohamed Hashem Esmaeel, director of Quality and Operations Control Department at RAKTA, said the route's launch comes within the authority's strategy to expand the intercity bus service and ease public transport for all.
Adel Shakri, director of the Planning and Business Development Department at the Public Transport Agency at RTA Dubai, said: "The RTA Dubai is keen to implement long-term strategies based on ambitious plans…to integrate the mass transport network within Dubai and create an effective link between the emirate and others."
Muhannad Ishaq, senior director of guest relations at Global Village, said: "We are proud to cooperate with RAKTA and RTA Dubai to provide this new service that would contribute to facilitating the arrival of guests from the emirate of Ras Al Khaimah to the Global Village to enjoy a more wonderful world." (NewsWire)