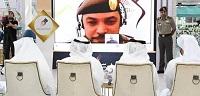 Residents in Dubai can use video conferencing services to complete their visa applications, it was announced on Wednesday.
According to The National News, the new service offered by the General Directorate of Residency and Foreigners Affairs, can be used if visa officers discover a document is missing or unclear, or need additional information from the applicant to issue the visa.
Applicants still have the option of visiting a centre if they wish to.
Lt Gen Mohammed Al Marri, director general of GDRFA, said at a media conference that the service could be used for issuing and renewing all kinds of visas — residency, golden and green visas, student and visit visas.
"Sometimes, there are pending transactions that require the customer to come to the building. The new service will allow people to see and speak directly to an officer to solve the problem," Lt Gen Al Marri said.
"Amer call centre is for enquires before applying, but the video conference service will be for people who have already submitted an application, and there has been a delay."
During the online meeting, people will be able to upload the required documents or pictures via the chat box while speaking with the officer.
"The officer will review the missing or unclear documents to attach them to complete the transaction. This service will cut time and make the process simpler for customers," Lt Gen Al Marri said.
The service will be available seven days a week between 8am and 6pm. People living in the UAE and those who are abroad will be able to use it.
Lt Gen Al Marri said there were plans to make it a 24-hour service in the future.
"We will have zero visitors after launching the service," he said.
The immigration services in Dubai processed 62.2 million transactions in 2022, including 47 million entry and exit transactions through air, sea and land ports.
Nearly 4.5 million residency visas were processed, including new visas and renewals.
About 80,000 golden visas were issued in 2022, compared to 47,150 in 2021. (NewsWire)