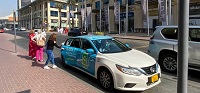 Dubai's Roads and Transport Authority has reduced its taxi fares as petrol prices drop.
According to The National News, the authority said the new tariff was now Dh1.97 per kilometre, down from Dh2.19 per kilometre.
The Dh12 minimum fare remains in place, the authority told The National on Thursday.
The change in tariff means a journey from Dubai Marina to Downtown Dubai — about 20km — will be almost Dh5 cheaper.
Petrol prices on the decline
In July, when petrol prices reached their highest level since they were liberalised in 2015, the authority increased the tariff from Dh1.99 per kilometre to Dh2.21 per kilometre.
Except for a marginal increase in November, prices have been in decline since last summer.
The latest petrol prices, announced in December, were the lowest in 11 months, dropping by about 16 per cent across all prices.
Super 98: Dh2.78 — from Dh3.30 in December

Special 95: Dh2.67— from Dh3.18 in December

Diesel: Dh3.29 — from Dh3.74 in December

E-plus 91: Dh2.59 — from Dh3.11 in December

(NewsWire)