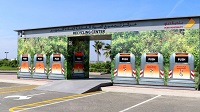 Dubai Municipality (DM) has converted old and unused cargo shipping containers into recyclable materials collection centres.
According to Khaleej Times, with an aim to reduce waste production, promote a culture of waste separation, and raise recycling rates, the centre will support the civic body's efforts of implementing sustainable projects.
Open 24/7, the centre has been designed in a way to enable People of Determination to utilise it without leaving their vehicles, through the designated entry and exit points.
The unused 40 cubic meter-capacity cargo shipping containers were reconfigured and manufactured to meet the approved environmental standards. 
Moreover, its electricity demands will be met by solar energy.
The capacity of the recycling centre is one tonne and uses multi-coloured containers to gather as many recyclable items as it can, including paper, cartons, plastic, metals and discarded electronic devices. To track the number of materials collected and measure its size, remote sensors are connected to every container.
In designing the centre, DM coordinated with organisations in charge of providing care for People of Determination, such as Dubai Club for People of Determination and the Community Development Authority, to implement the project and encourage them to directly visit and use the facility.
Currently, the Municipality is strengthening its strategic partnerships with several organisations and partners as part of the project's development plan, to explore ways to set up such centres in multiple locations including education centres for People of Determination as well as large public parks.
DM constantly strives to implement sustainable projects and programs that aim to maximise the use of waste, utilise those in various recycling programs, and divert them from landfills. Additionally, it ensures that all segments of society as well as organisations adhere to the best international practices in the fields of waste separation and sustainable disposal, as well as creating recycling techniques that cater to the core principles of the circular economy. (NewsWire)