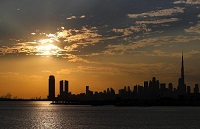 Business activity in the UAE's non-oil private sector economy remained "robust" in December, with the Arab world's second-largest economy on track to expand at its fastest pace in more than a decade in 2022 despite concerns about a slowing global economy.
According to The National News, the seasonally adjusted S&P Global purchasing managers' index softened to 54.2 December, from 54.4 in November, but remained well above the neutral 50 mark that separates growth from contraction.
Despite global economic uncertainty, slowing growth and higher inflation around the world, the latest reading brought the index in line with its long-run series average since August 2009 and signalled "a robust improvement in the health of the non-oil sector", according to the survey.
Output growth continued at a sharp pace in December and this was linked by panellists surveyed to an increase in sales and customer numbers.
New business at non-oil companies continued to rise, although at a slower pace, while demand from domestic clients improved.
"Firms enjoyed a renewed fall in their expenses as commodity prices moderated and input availability improved, which supported an additional cut to selling prices," said David Owen, an economist at S&P Global Market Intelligence.
Output charges fell for the eighth consecutive month as businesses sought additional sales through price promotions.
The rate of charge discounting picked up to its fastest since September on a renewed decline in costs.
Despite the weaker global outlook, some companies said expectations of higher sales and new projects had encouraged them to build stocks.
The UAE economy has made a strong rebound from the coronavirus-induced slowdown over the past two years and the pace of economic momentum has continued to improve on the back of government initiatives and higher oil prices.
The economy was projected to grow by 7.6 per cent 2022, the highest in 11 years, driven by both the oil and non-oil sectors, according to estimates from the UAE Central Bank in its latest Quarterly Economic Review 2022.
The country's economy is forecast to grow 3.9 per cent in 2023, according to the Central Bank.
The UAE's non-oil foreign trade in the first nine months of 2022 grew 19 per cent to about Dh1.64 trillion ($446 billion), compared with the same period in 2021, according to the Ministry of Economy.
The tourism sector's revenue topped Dh19 billion during the first half of last year and the total number of hotel guests in the same period hit 12 million.
Growth in hotel guest numbers climbed 42 per cent from the same period before the pandemic. (NewsWire)