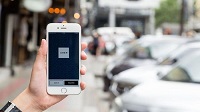 A new partnership has been announced to improve travellers commute experience when they land in Dubai.
According to Khaleej Times, Dubai Aiports is partnering with Uber to provide improved on-ground transportation in the city as tourist arrivals peak during the winter months.
Uber has also launched its latest travel feature, Smart Itineraries. Once riders link their Uber profiles with their Google account by clicking on 'Travel' in the app, it displays upcoming travel plans and allows people to reserve an Uber to and from specific locations based on hotel and flight bookings, making the travel experience even more seamless. Smart Itineraries is part of the Uber Travel Suite of Offerings globally, with a range of features expected to launch in the region soon.
Pia El Hachem, General Manager, Uber UAE and Levant commented: "Our mission at Uber is to help people move around their cities more seamlessly. This partnership with Dubai Airports and the launch of Uber Travel will streamline the traveling experience for tourists and residents alike by making stress-free and reliable transportation more accessible and easier to use"
Uber's new vehicle staging area at Dubai International (DXB) will hold over 125 vehicles, allowing for a short estimated time of arrival (ETA) for passengers at the pick-up zone. As part of the partnership, Uber and Dubai Airports will be increasing pick-up zones capacity in all terminals, including twelve parking bays, and in-terminal wayfinding.
Eugene Barry, Executive Vice President of Commercial at Dubai Airports said, "As operator of the world's busiest international airport, and gateway to one of the world's most vibrant cities and destinations, we are at the forefront of convergent consumer needs and traveler expectations. Dubai Airports partnership with Uber is designed to enhance the degree of service and convenience for our guests, while complementing our existing range of ground transport options to and from DXB." (NewsWire)