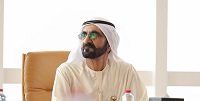 H.H. Sheikh Mohammed bin Rashid Al Maktoum Vice President of the UAE and Ruler Of Dubai has unveiled the UAE's five main priorities for 2023 in the first cabinet meeting of the year.
According to What's On Dubai, Sheikh Mohammed stated that the emirates would focus on five key features as it continues to advance as a global leader. 
These five priorities are:
Consolidating national identity

Championing the environment and sustainability

Developing the education system and its vision,

Boosting Emiratisation policies

Expanding economic partnerships across the globe
The Dubai Ruler applauded the progress that the nation made in 2o22, as he looks forward to the next 12 months. He also praised the UAE for having one of the most adaptable governments in the world.
Upon review of 2022, Sheikh Mohammed mentioned that the cabinet issued more than 900 decisions, there were 22 new government policies developed and approved, 68 federal laws were revised and issued, and 113 national regulatory regulations were approved and implemented.
Looking forward, Sheikh Mohammed wrote, "The new year brings with it a lot of optimism for us, our work teams, and a brighter future, God willing."
During the meeting, ministers approved the National Strategy for Desertification, which looks to shape the efforts in safeguarding the country's natural resources until 2030. The framework will include 33 initiatives to preserve the country's different ecosystems. The cabinet also agreed to regulate permits for space-related activities, which will bolster the flourishing sector and stimulate investment. The cabinet also green-lit the issuance of a federal decree ratifying cooperation agreements with the governments of Samoa, Ivory Coast, Serbia and Italy. (NewsWire)