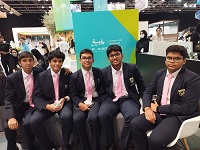 Students at a Dubai school are launching a sustainable initiative to support low-income people by enabling them to buy groceries that are about to expire at a discounted rate.
According to Khaleej Times, GEMS Modern Academy students aim to reduce waste from supermarkets and grocery stores by developing a website and an app. 
The app logs products approaching the expiry date, allowing consumers to purchase them at a lower price.
Project Ubuntu was placed highly at the global food security hackathon — Food for Future Summit, held earlier this year.
The students also managed to raise over Dh10,000 as part of their crowdfunding campaign on DubaiNEXT.
The team underlines that the initial focus will be on vegetables and bakery items, with the possibility of expansion into dairy and meat products in the future.
Co-founder, Hari Chandrasekhar, says, "We have had promising conversations with numerous heads of grocery stores across Dubai but have yet to confirm our first official partnership as we are still developing and refining our product.
"As part of our long-term plan, we intend to expand beyond retail to include restaurants and other establishments. Once we officially launch our product (publicly) we expect to form partnerships." (NewsWire)