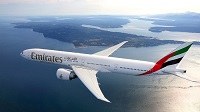 Emirates has announced plans to add an additional daily direct flight between Dubai and Colombo from December 1.
EK648/EK649 will operate direct between Dubai and the Sri Lankan capital, except for during the period of December 16-30 when it will be routed via the Maldivian capital, Malé.
According to Emirates, the flights will be operated by B777-300ER aircraft in a three-class configuration, including private suites in first class and fully-flat seats in the business.
The direct flight times are as follows:
Departs Dubai 1610, arrives in Colombo at 2155
The routing via Malé is:
Departs Dubai 1030, arrives in Malé at 1445
Departs Malé 1715, arrives in Colombo at 1915
The return flight is scheduled to depart Colombo at 0255 and land in Dubai at 0555 – this will be the case throughout the period from December 1, 2022 until March 26, 2023.
The additional service will increase the number of daily flights between the two cities to three. These include two direct flights and one operating via Malé.
Emirates launched operations in Sri Lanka in 1986 and celebrated 36 years of operations to Colombo earlier this year. (NewsWire)