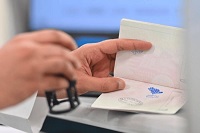 New passport rules for passengers travelling to the UAE have been introduced, the Arabian Business reported.
Under new guidelines, all visitors travelling in to and out of the UAE must have both a primary and secondary name in their passport to be permitted to travel.
People without the standardised naming procedure will be banned from entering the country.
UAE travel rules
A number of Indian airlines, including Spicejet, Air India Express and Indigo have sent information to travel agents advising them of the rules.
A statement from Indigo sent to travel agents said: "As per instructions from the UAE Authorities, effective 21st November 2022, passengers with a single name on their passports travelling on tourist, visit or any other type of visa shall not be allowed to travel to/from UAE.
"However, passengers with a single name on passports and in possession of a residence permit or employment visa shall be allowed to travel provided the same name is updated in the "First Name" and "Surname" columns."
It means that people travelling on residence or employment visas will be exempt from the rule change.
Any passport holder attempting to enter the country with either just a primary or secondary name will be classified as inadmissible. The rules are effective immediately.
The tradition of having just one name, known as a mononym, is common in many countries. (NewsWire)