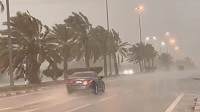 Northern parts of the UAE were lashed by rain and hail on Monday and the early hours of Tuesday, with more wet weather forecast.
According to The National News, downpours were recorded in Fujairah, Sharjah and Ras Al Khaimah on Monday.
The National Centre of Meteorology said heavy weather can be expected on Tuesday and Wednesday, with chances of convective clouds forming.
Video by NCM and the Storm Centre showed heavy downpours continuing in Khor Fakkan, Sharjah, Ras Al Khaimah, and Fujairah on Tuesday morning.
The weather centre advised people to stay away from valleys and dams.
It said more rain, accompanied by winds of up to 35 kilometres per hour, is expected, with a chance of fog and mist, particularly in coastal areas, in the coming days.
It will be humid at night.
NCM videos showed water flowing down in wadis in the Masafi area of Ras Al Khaimah.
Weather will be fair to partly cloudy on Thursday and some cloud is expected farther inland.
Forecasters said it will be partly cloudy and humid with a chance of fog on Friday night into Saturday.
On Tuesday morning, a low of 12°C was recorded in Jebel Jais in Ras Al Khaimah and a high of 33°C in Swaihan in Al Ain.
The maximum temperature will be in the high 20s and low 30s all week in Dubai and Abu Dhabi. (NewsWire)