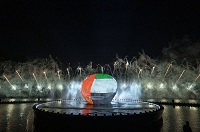 The UAE's private-sector workers will be given three days of public holidays to mark Commemoration Day and the country's 51st National Day, The National News reported.
Employees will enjoy a four-day weekend from Thursday, December 1, to Saturday, December 3, and with Sunday, December 4 being a day off, employees will be back in the office on Monday, December 5.
The public holiday was announced by the Ministry of Human Resources and Emiratisation on Friday.
Earlier, the UAE Media Office confirmed public-sector workers would also be given the same number of holidays.
Commemoration Day, previously called Martyr's Day, is an annual event to remember those who lost their lives in the line of service.
It officially falls on November 30 but has been marked with a public holiday on the following day in recent years, a move that is being repeated this year.
The UAE celebrates National Day to commemorate the formation of the country in 1971.
The holiday marks the day that six emirates bound together to form the UAE, with Ras Al Khaimah joining as the seventh emirate the following year.
According to Khaleej Times, here are some events through which the UAE will be celebrating National Day;
Apart from the UAE decked up in colours of the UAE flag (red, green, white and black) and fireworks across the country, there will be several events taking place.
At Expo City, visitors can be dazzled at the Al Wasl Dome, with a special National Day performance.
Over at The Pointe, the buzzing destination on Palm Jumeirah, there will be a fountain show, paired with music and roaming entertainment.
At Dubai Festival City, the award-winning IMAGINE show will showcase a performance dedicated to 51 years since the UAE's formation. (NewsWire)