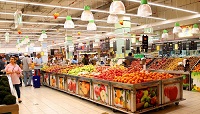 As the world battles inflation due to the higher cost of consumer goods, grocery prices in the UAE are expected to drop further in the months ahead due to a decline in freight rates, regular and uninterrupted supply of basic consumer items for UAE importers, strengthening of dirham and accessibility to new markets.
According to Khaleej Times, UAE retailers praised the pro-market and pro-consumer policies adopted by the authorities to keep commodity prices in check. 
Last week, a new policy was announced in which retailers are not allowed to hike prices of nine basic consumer goods including cooking oils, eggs, dairy, rice, sugar, poultry, legumes, bread, and wheat. This is a preliminary list, and more items could be added, the UAE government said.
Earlier this year, the UAE approved a new policy under which suppliers will have to submit evidence to justify price increases of basic items such as milk, chicken, eggs, bread, flour, sugar, salt, rice, cooking oil, mineral water, and others.
The runaway inflation in the US and other countries has prompted central banks to raise interest to rein in inflation. (NewsWire)