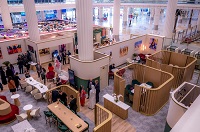 Those travelling for work and business can now enjoy a special lounge at Dubai International Airport (DXB) — and it has everything they need to stay productive even while waiting for their flights.
According to Khaleej Times, DXB's first co-working space, called Their Patio, opened on Thursday at Terminal 3, near Gate 3 of the arrivals section.
"Without stepping outside the airport, a passenger can start getting some business done and manage some administrative issues — even finalise deals," said Mei Mei Song, global brand director and product transformation of Plaza Premium Group, the company that established the lounge.
The lounge consists of various facilities that are designed to create an uninterrupted working environment for business travellers. 
These include:
Meeting rooms
Private call rooms
Shared offices
There are also visa processing desks, a typing centre and counters where services can be booked.
Lounge fees
With an area of 523sqm, the facility can host 398 travellers per day. Those who wish to use the lounge can do so at a cost of Dh130 for two hours and Dh145 for 3 hours.
Esaad card holders and people with Smart Travellers Membership can avail of a 20 per cent discount. (NewsWire)