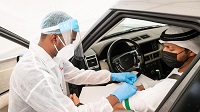 The Dubai Health Authority (DHA) has recently seen the launch of the UAE's first-of-its-kind drive-through blood test service, the Khaleej Times reported.
The new service will be provided by Unilabs, the leading Swiss diagnostic service provider, which has been ISO certified by the Emirates International Accreditation Centre (EIAC), in collaboration with the United Medical Center (UMC) in Dubai.
The drive-through blood test comes as part of a package of services delivered by the Dubai Health Authority (DHA) to equip community members with better and faster access to services, while also maintaining high-quality standards and a safe and healthy environment.
With the launch of this service, customers (with an approved laboratory test application) can now undergo drive-through blood tests as recommended by the treating physician.
CEO of the Health Regulation Sector at the DHA Dr. Marwan Al Mulla said that the Dubai Health Authority is moving forward with carrying out its plan and goals to strengthen the healthcare system, and add new high-quality medical services that meet the demands of customers, to go above and beyond their expectations. (NewsWire)