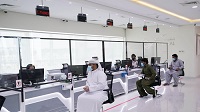 Dubai's Roads and Transport Authority (RTA) has introduced uniform working hours across its 28 vehicle testing centres. 
According to Khaleej Times, with this, business hours at all centres except Tasjeel Hatta and Jebel Ali Centre have been unified.
The new working hours at RTA's service centres are from 7 am to 10.30 pm. Tasjeel Hatta Centre will operate from 8 am to 4 pm, and Tasjeel Jebel Ali Centre, from 7 am to 5 pm.
Instead of Saturday, the weekend holiday at service provider centres will be on Sunday. Friday's working hours will be split into two shifts; morning and evening. 
In each of the 28 service provider centres, the morning shift will run from 7 am to 12 noon; and the evening shift from 3 pm to 10.30 pm.
On Friday, Tasjeel Jebel Ali Centre will open in the morning shift only from 7 am to 12 noon, whereas the working hours at the Hatta centre will be limited to the evening shift, from 3 pm to 9 pm. (NewsWire)