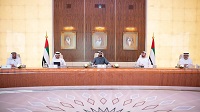 The UAE Cabinet has approved a surplus general federal budget for the next three years. 
According to Khaleej Times, the net expenditure for 2023-26 will be Dh252.3 billion, with estimated revenues of Dh255.7 billion — resulting in a surplus of Dh3.4 billion.
A zero-deficit budget of Dh63.06 billion has been allocated for the fiscal year 2023. The total revenues are estimated to be Dh63.613 billion.
This came as His Highness Sheikh Mohammed bin Rashid Al Maktoum, Vice-President and Prime Minister of the UAE and Ruler of Dubai, chaired a Cabinet meeting on Monday (10).
The UAE estimates growth in revenues in the fiscal year 2023 to reach 11 per cent, with a growth rate of 3.9 per cent in expenditures.
Social development and benefits represent the largest proportion of the 2023 budget at 39.3 per cent, followed by government affairs at 38 per cent. 
The rest of the budget was distributed to infrastructure and economic resources (3.8 per cent), and financial assets and investments (3.4 per cent). Other federal expenses amount to 15.5 per cent. (NewsWire)