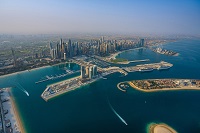 Dubai is among the six locations chosen to hold the FIFA Fan Festival during the World Cup in Qatar.
According to Arabian Business, Dubai Harbour in the UAE is the chosen location for the BUDX FIFA Fan Festival, which runs for 22 days and will keep fans in the loop with all that's happening in Qatar from Dubai.
Other cities chosen for the FIFA Fan Festival include London, Mexico City, Rio de Janeiro, Sao Paulo, and Seoul.
All international FIFA Fan Festival events will feature live match broadcasts from the FIFA World Cup Qatar 2022, Fédération Internationale de Football Association (FIFA) said in a statement.
"Various entertainment-driven activities, including performances by popular international DJs, local musicians and artists, and appearances by FIFA Legends. Selected events will boast 4D audio that will bring the sounds from the matches in Qatar to local events. Fans can be excited about what awaits them on site," the statement added.
Fans will be required to purchase their tickets online. The link to the official ticketing platform will be released on FIFA+ shortly, the statement added.
The fan festival will also be open during the below time slots:
20 to 28 November: 12am to 3am
29 November to 18 December: 3pm to 3am
FIFA World Cup 2022 Qatar kicks off on November 20 and will run until December 18. (NewsWire)